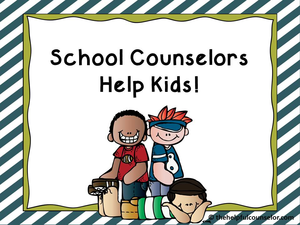 "Disclaimer: Due to the current building shutdown, school counselors cannot address mental health emergencies, and are only available to respond to other requests or emails during school hours. If at any time you or someone you know are experiencing a mental health emergency: tell the nearest adult, call 9-1-1 for support, or contact the local Community Services Board 24/7 at 703-792-7800 for non-life-threatening mental health emergencies.

*Resource guide: https://www.mcpsva.org/Page/4345

*Spanish resource guide: https://www.mcpsva.org/Page/4404"

____________________________________________________________________________________________________________________________________________________

Welcome to our 2019-20120 school year! School Counselors are here to facilitate academic, career and social/emotional development with all of our Mayfield students. Please feel free to contact us at any time.

Academic goal: Students will acquire the academic preparation essential to choose from a variety of educational, training and employment options upon completion of secondary school.

Career goal: Students will investigate the world of work in order to make informed career decisions. Please see resources related to career development.

Personal/Social goal: Students will acquire an understanding of and respect for self and others, and the skills to be responsible citizens.

About Our Counselors

Robert Vavrinak

I would like to introduce myself as your school counselor. My name is Robert Vavrinak and I am excited to begin my first full year as a school counselor. I am a recent graduate of Trinity Washington University with a master's in School Counseling. I have previous experience in a variety of settings including working in a multitude of mental health settings, as a substitute teacher, and as a substitute school counselor. My wife and I have one son named James. I am also a big football fan (Go Pack Go!), and enjoy watching hockey (Let's go Pens!). I look forward to assisting your students with their academic, career, and social emotional needs through individual meetings, small groups, and in-class lessons. I look forward to meeting and working with the members of the Mayfield Intermediate Family.

Amber Dutchess

Hello! I would like to take this opportunity to introduce myself, my name is Amber Dutchess and this is my fifth year at Mayfield Intermediate. I am originally from Pennsylvania and received my master's in School Counseling from Edinboro University. I live with my husband and three pugs, and I love working with 5th and 6th grade students! I will be working with students through individual counseling, small groups, and monthly classroom lessons, as well as working with community stakeholders to best meet the needs of all students at Mayfield. Working with students is my passion and I absolutely love working with the students in Manassas City. I am looking forward to working with your child and to having a successful school year!

Elizabeth Thomasson

I would like to take this opportunity to introduce myself; my name is Liz Thomasson, and I am entering my sixth year as a school counselor, and my fourth year as part of the Mayfield family. I hold a bachelor's degree in developmental psychology from Westminster College in Salt Lake City, Utah, and a master's in School Counseling from Liberty University's online program. I love to spend time with family and friends, watch figure skating, and be with my energetic dog, Luna. I look forward to continuing to offer support to the students, staff, families and community in Manassas this year. I will be meeting with students individually and in small groups, conducting classroom lessons, meeting with parents, collaborating with teachers and staff, and consulting with community organizations to benefit and meet the needs of all Mayfield students and their families. I am here to help students achieve their goals. Any student can request to meet with me, or they can be referred by a teacher, administrator, parent, or guardian. I encourage you to reach out if you have concerns regarding a Mayfield student.
Meet The Counselors
Mrs. Dutchess - Students with the last names A-F

571-377-6618

Mr.Vavrinak Students with the last names G-N

571-377-6615

Ms. Thomasson-Students with the last names O-Z

572-377-6617